UPDATE 2
Here a picture of today's event Gomi Hiroi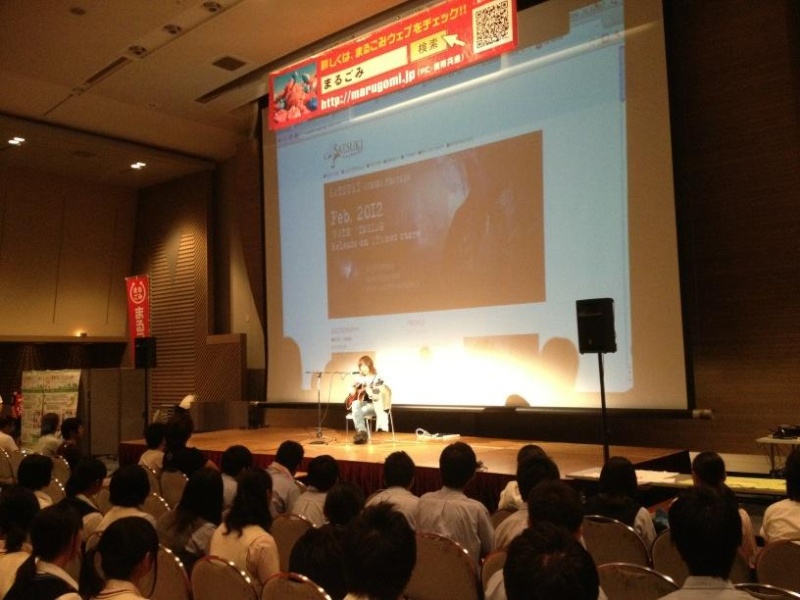 And here the pictures of the final result of GOMI mosaic art:
Satsuki's message after this event from Facebook Here
UPDATES 1:How to Partecipate at Gomi Hiroi event of 17 sept of TODAY (time and hour are referred in Japan), in some countries, it's still 16 sept.:
If you have a smartphone: (iphone, etc...):
1. From your smartphone, search for "Pirika."
2. Download Pirika (free), and start the application.
3. Login to your Twitter or Facebook account.
4. Take a photo with your digital camera of trash and post it.
5. Your submission will show up on the timeline and map.
If you don't have a smartphone:
1. Take a photo with your camera's phone of the trash.
2. Attach the photo to the e-mail.
3. Enter 530@bayfm.co.jp as e-mail address.
4. Enter the trash's location in the title.
About the Gomi hiroi event:
Today, from 9:30 am (Japan Time) Satsuki will attend Gomi Hiroi Event ("let's complete a mosaic art picking up litter") at Kaihin-Makuhari Station (海浜幕張駅);
http://www.ustream.tv/channel/marugomi#
After that, from 11:30am he'll hold a live show in which he'll sing at his own accompaniment!
Links:
http://marugomi.jp/cn4/pg29.html
http://pirika.hateblo.jp/entry/2012/09/10/124413
http://www.ustream.tv/channel/marugomi
(Italiano)
Dalle 9:30 di oggi (Ora locale in Giappone) /in Italia le 2:30 di stanotte, Satsuki partecipera' al Gomi Hiroi Event (completare un mosaico raccogliendo rifiuti)all'entrata sud della stazione di Kaihin-Makuhari (海浜幕張駅);
Alle 11:30am terra' un live show dove canterà in auto-accompagnamento.
Come partecipare al Gomi Hiroi event di oggi:
Se possiedi uno smartphone: (iphone, etc...):
1. Cerca "Pirika" dal tuo smartphone.
2. Scarica l'applicazione (gratuita) Pirika e lancia l'applicazione.
3. Fai login dal tuo account Twitter o da Facebook.
4. Scatta una foto ad un rifiuto con la fotocamera del tuo telefonino ed inviala.
5. La tua foto sarà mostrata nella timeline e nella mappa.
Se non possiedi uno smartphone:
1. Scatta una foto di un rifiuto col tuo telefonino .
2. Allega la foto ad un'email.
3. Inserisci 530@bayfm.co.jp come indirizzo email.
4. Inserisci la zona del rifiuto nel titolo dell'email.
Links:
http://marugomi.jp/cn4/pg29.html
http://pirika.hateblo.jp/entry/2012/09/10/124413
http://www.ustream.tv/channel/marugomi
(*)For those who don't know about GOMI Hiroi /GOMI Mosaic Art, read this: http://satsukitsupport.livejournal.com/11864.html
_______________________
Previous news
Spoiler:

From Satsuki's blog latest entry: 「護美(ごみ)拾いイベント参加決定!"」


I'm going to attend the event "Gomi-hiroi" (trash-gathering)

As you may know, I am acting as a member of
"GOMI FANTASISTA PROJECT"
http://gomi-f.com/supporter/index.html

On sept,17,
I decided to join the 護美(ごみ)拾い (Gomi-hiroi) trash-gathering event in Mihama-ku [Mihama-Ward] Chiba City, and to hold a live show in which I'll sing my songs accompanying myself in a international conference room (国際会議室で) of the Makuhari Messe hall.
(幕張メッセ国際会議場)


The admission is free so people who have time please come by all means!
http://marugomi.jp/cn4/pg29.html


GOMI Mosaic Art's report
http://d.hatena.ne.jp/teampirka/20120504/1336097892

Activity referral: 9 (第9回) with the efforts of "one million of people's gathering trash"
http://all62.jp/ecoreport/09/01.html


A glance of GOMI event on may 3th, 2012
https://youtu.be/605jrznx2ac

________________________


※From Satsuki's blog: 「護美(ごみ)拾いイベント参加決定!"」
E' deciso che parteciperò all'evento "Gomi-hiroi" (raccolta-rifiuti)

Come forse già qualcuno saprà, sono parte attiva come membro di "GOMI FANTASISTA PROJECT"
http://gomi-f.com/supporter/index.h
tml


Il 17 sett.,
mi unirò all'evento (Gomi-hiroi) raccolta-immondizia a Mihama-ku [Mihama-Ward] Chiba City, e terrò un concerto in cui canterò le mie canzoni in autoaccompagnamento in una sala congressi (国際会議室で) della Makuhari Messe hall. (幕張メッセ国際会議場)

L'entrata è gratuita, quindi coloro che hanno tempo, venite ad ogni costo!
http://marugomi.jp/cn4/pg29.html


GOMI Mosaic Art's report
http://d.hatena.ne.jp/teampirka/20120504/1336097892


Attività svolte: 9 (第9回) grazie alla "raccolta rifiuti da un milione di persone"
http://all62.jp/ecoreport/09/01.html


Uno sguardo al GOMI event del 3 Maggio 2012:
https://youtu.be/605jrznx2ac

Last edited by SATSUKIMANIA on Mon Oct 01, 2012 8:02 pm; edited 10 times in total